Living in the Cloud
Over the last few years the word cloud has been used less in reference to those fluffy white masses in the sky and more in the context of storing information and files on a online server hidden away somewhere halfway across the world. At first I was hesitate about using cloud services but overtime I became open to the idea and I practical live in the cloud now.
So what does living in the cloud mean for me?
It means using online storage to store files and to sync files between your computer and the cloud, it means storing your favourite music online and having the ability to play the music online, and it means having the ability to take notes quickly and easily and store them so that they are easy accessible.
Why use a cloud rather than saving files on a computer or hard drive?
Portable USB hard drives and storage has become cheaper in recent times with thumb drives now just being a couple of dollars. A few months ago I use to carry around a thumb drive with me between home and work so that I could easily access my files. With further developments in technology people now also want to be able access files in transit and have their personal content available while on the go, especially with an increasing amount of mobile device accessible like smartphones and tablets. Saving files and content into cloud storage solves many problems for many people with everything at your fingertips when you need it.
Welcome to cloud computing, cloud computing for me has solved many of the issues of no longer being able to access files and my personal content when I need it, whether that be at work, in transit, on holidays or at home. Read on for further details about how different cloud computing resources may work for you. Some you may already use, while others maybe new to you.
1. Dropbox - Free (3 GB)
There are dozens of sites and companies that offer free online storage. Some are better than others depending on what your after. What matters to me is my ability to upload files and easily being able to access those files on all platforms. This is where Dropbox excels. One of the biggest draw cards of Dropbox is that they have provide applications for nearly all platforms. For me personally, I have Dropbox installed on different computers at home, I can access my Dropbox online via the web portal at work and while on the go I can use the Dropbox application on my Blackberry and as an Android application on my Android phone. I also access my Dropbox files via an application called BlueBox on my BlackBerry Playbook.
Once installed on a Windows based computer Dropbox is exceptionally easy to setup and use, all that needs to be done is to add files that you want to access anywhere to a new folder called "My Dropbox" available in your My Documents folder and Dropbox takes care of the rest. The only drawback of Dropbox is that while you receive 2 GB for free, it can get used up quite quickly so it is important that files are kept organised, neat and tidy or alternatively purchase more space.
2. Google Drive - Free (5GB)
While not having been in the cloud storage game as long as Dropbox, Google Drive provides a similar service with the added bonus of integrating what was previously know as there Google Documents service into Google Drive, so that all Microsoft document files can be created, edited and managed online within the cloud. I use this service to write blog entries and documents that I will be publishing on the web in some shape or form.
As a matter of fact I'm using it right now!. Google Drive also comes with 5 GB of free storage space which for documents and spreadsheets is more than adequate. By all means any files can be stored in Google Drive, but I choose to use Google Drive to store all my documents, spreadsheets and powerpoint presentations.
3. Evernote - Free (60MB Monthly)
I can't tell you how much of a Evernote advocate I am. Evernote in it's simplest form is note taking application, notes can take the form of text, audio, images or webcam the key feature being that all notes that are saved, are saved into cloud storage and then accessible across nearly all platforms. I've been using Evernote for over three years now and utilise the service everyday to remind myself of things that I need to do.
Often while I am out and about I jot down a few reminders such as meeting details or task notes about what I need to do at work the next day, while if I'm at work, it is nice to be able jot down a shopping list of things to pick up on the way home. While shopping, I can quickly open up Evernote, bring up my shopping list so that I know what I am buying. Evernote is a great tool to clear the mind and be able digest more knowledge thoughout the day with having to worry about remembering things, as they are all written and available to review at anytime.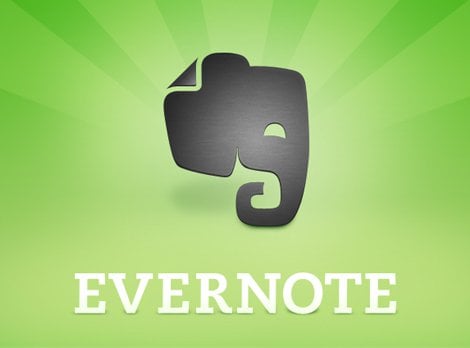 Another major advantage of Evernote is it's web clipping capabilities. When you install the Evernote Web Clipper add-on for Firefox or Chrome, this feature provides the ability to open any page in a web browser and then save a copy of that page for review later in Evernote to refer too, especially if you need to refer to the contents of page later or want to read the page at a later date is really handy. Web clipping helps make sure you do don't miss out on a think. Out of all the cloud services, Evernote is the one I would miss the most if it wasn't available. The beauty of Evernote like many of the other cloud services is that is free, but I decided to upgrade and purchase the premium service. As a premium user I have the advantage of using a 1GBs worth of storage for notes instead of 60MBs, premium access provides an added feature to store notebooks offline so that you can access your notebooks if no data connection available. There is also the advantage of being able to share notebooks with other users which is a feature I use daily with my partner.
I'll provide a future blog entry outlining some further details about Evernote and how I utilise the product daily.
4. Cloudplayer.me - Free (Unlimited)
As part of my ongoing strategy to live in the cloud I recently fell upon a service called Cloudplayer. In short it is Music Cloud service whereby you can upload all of your music into the cloud and then access them from different devices. At the current time of writing this an CloudPlayer application is available for iOS, Android, Blackberry, Windows and Mac platforms as well as any web browser, making this an ideal service to upload your personal music collection to be accessed without the need to carry around a thumb drive or portable drive. Simple and easy.
There is a Windows application that can be installed that will upload all music files within a folder that is specified. I was surprised about how quickly the music upload and was accessible online to listen too.
This is a great free service that can help clear a heap of space from a computer hard drive and just as simply listen to the music on your computer and more importantly any computer or device with a Internet connection. I recommend to give it a go.
5. Booki.sh - Free
One of the recent trends at the moment is rather than pick up an old fashion paperback book, technology savvy folks are opting for eBook readers such as Kindles, Pico, Kobo and a multitude of others. I have my BlackBerry Playbook which works great as an eBook reader but once again these eBooks take up space and are only available on the one device. This is why Booki.sh is a winning service.
The Booki.sh service allows you to upload all of your favourite books into a cloud where the books can easily be accessed and read across a multitude of platforms. Ideal if you want to read your eBooks in front of your computer at home, at work if there are work related articles that need to be reviewed or while in transit to and from work and want to catch up on your favourite books. This is something that I do on a regular basis.
6. OhLife - Free
OhLife is a online journal service, nothing complicated, no fancy looking web site but rather a simple way to document your private daily thoughts on the website by replying to daily reminder emails if opt that is when you opt to receive them.
OhLife is a great service to be able to jot down the accomplishments at the end of each day, what makes it even better is that you can choose to receive email reminders to write down a few points. I found in the past that journals are one of those things that can easily be started, but if not updated on a regular basis they can easily be missed or forgotten about.
The above services are just a sample of the many cloud services that are available out here. The ones listed are the ones that I use on a regular basis.
The three main reasons why I have opted to use cloud services are
Utilise online storage services helps reduce the need to continue to upgrade storage, processing power and RAM on computers.

Ability to use the cloud services across multiple devices

Provide an increase level of productivity as files and content can be accessed from anywhere.
Since living in the cloud I have been able too;
Store all of my files online so that they are accessible anywhere.

Write, edit and manage documents, spreadsheets and powerpoint presentations directly online.

Create and edit notes online so that they are always accessible where ever I might be, moving to paperless office where all documents are available online

Listen to my favourite music online from any computer or from my mobile devices.

Read eBooks online at anytime on any platform

Write and edit journal entries easily without the need to store files on a computer which makes it easy to add new journal entries or edit existing ones.
Cloud services may not be for everyone and there is always the concern about who legally owns the content stored within the cloud, and depending on your personal content is definitely something to take into consideration.
For me personally, the files that I have in the cloud do not hold any great significance or important so I am comfortable uploading them and will happily continue to utilise the different cloud services that are more frequently becoming available. Happy clouding!